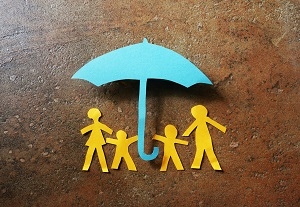 LIFE INSURANCE & LONG TERM CARE INSURANCE
CFS* Financial Advisors at NASA Federal Credit Union can help you gain access to many insurance companies that provide different types of life insurance policies, to assist you in maximizing your coverage options at a cost that will fit your budget. Connect with your CFS advisor to learn more about all the different options, find the insurance coverage that best meets your needs, and obtain free policy quotes.
Term Life Insurance –
A cost-effective form of life insurance that offers coverage at low costs for a specified period of time. Term life insurance may be a good option if:
You are looking for an affordable life insurance option that provides maximum coverage
Your protection needs include large expenses such as a mortgage or education costs.
You are looking for additional policies to supplement your existing life insurance policies.
Permanent Life Insurance
This type of policy covers you throughout your lifetime, and may be a good option for you if:
You want to purchase coverage that will not expire due to age or after any specified period of time.
You are looking for a life insurance policy that will also build a cash value.
You want your premiums to stay at a consistent rate and not increase throughout your policy.
You are looking for flexibility in your life insurance options.
Long Term Care
The number one cost throughout retirement continues to consistently be medical expenses and health care costs. Unfortunately, it is also one of the more easily overlooked aspects of many financial plans. When thinking about your retirement, remember that:
Long-term care insurance is a vital part of a financial plan, as it addresses one of the largest threats to your retirement.
Medicare provides very limited coverage of most long-term care costs, and in many cases, none at all.
Nursing home care can cost tens of thousands of dollars per year.
Long-term care insurance is the only coverage designed to help pay for extended home care, assisted living care, and nursing home care.
Take the time to Connect with your CFS advisor to review the long-term care policy in your financial plan, or learn about the different types of coverage available to you.